Modbus TCP Ethernet Remote IO Module Anti-reverse Protection Data Acquisition Unit (2AO+RJ45+RS485)
Description
The M200T Ethernet Remote I/O Module is an industrial class, isolated designed, high reliability, high stability and high 
precision data acquisition module, embedded 32-Bit High Performance Microprocessor MCU, Integrated 1 Industrial 
10/100M adaptive Ethernet module inside. It provides multi I/O, supports standard Modbus TCP, can be intergraded 
into SCADA, OPC server, and other automation systems. It is design for working in the harsh industrial application 
environment, widely used in a variety of industrial automation, security monitoring system, automatically measurement 
and control system.
The M200T Ethernet Remote I/O module provides a RS485 interface, through the RS485 bus, it can cascade Modbus 
RTU I/O devices or Modbus RTU meters, e.g.: a variety of digital input or digital outputs, analog inputs or outputs, 
thermal resistance IO module combination, save costs. At the same time, the Ethernet Remote I/O module has register 
mapping function, the cascade Modbus RTU I/O data are automatically collected to the mapping memory area, the 
Modbus TCP Client query without waiting then can get a quick response to meet the industrial timely requirements.
The M200T Ethernet Remote I/O module provides 2 analog outputs, 12-bit resolution, supports 0~10VDC signal 
output. All of the I/O with high sampling frequency and special filtering strategy to ensure it's reliable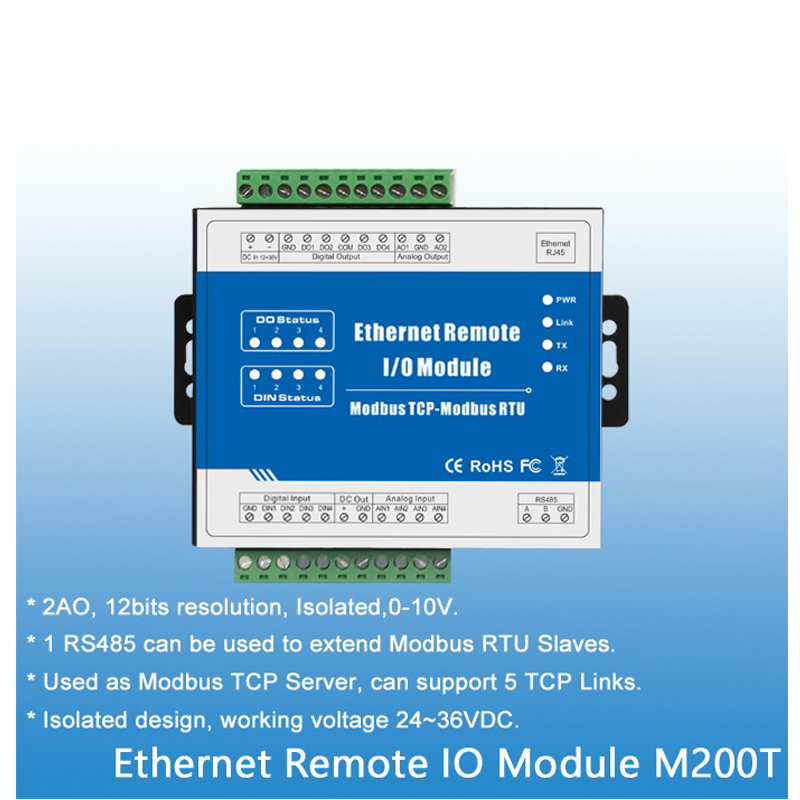 Features
 Embedded 32-Bit High Performance Microprocessor MCU, inbuilt watchdog;

 Wide range power supply 24 ~ 36VDC with over voltage and phase-reversal protection;

 Embedded Web server for configuration and management;

 Integrated 10/100M adaptive Ethernet module, supports Modbus TCP protocol;

 2 analog output, 12-bit resolution, supports 0-10VDC;

 High sampling frequency and special filtering strategy to ensure reliability;

 1 RS485 Serial port, supports Modbus RTU/ASCII Master, can extend I/O modules;

 Supports register mapping function and extend I/O inquiry strategy;

 Provides 1 channel 24~36VDC power source output for external device, saving wiring cost;

 LED instructions work status, with reset button to reset, easy on-site installation and commissioning;

 Using metal shell, protection class IP30. Metal shell and system security isolation, especially suitable for industrial 
         applications in the field;
Specifications
Packing List
1 x Ethernet Remote I/O module